Feel free to check out my Virtual Sticker Book too!
Howdy! Welcome to my farm!
I have many adopted animals and pets who live here! All these guys have a good time here and just because they may have rooms or places they are kept in, they are free to roam around whenever! (I just like to organize by species, much more fun to imagine the animals having a space that has their unique needs & all that!)
Gonna be using emojies a lot on this page, apologies for any empty boxes or symbols if your browser doesn't support it!
WIP!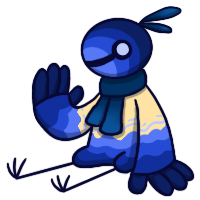 Cat Tree🐱
Grapes - They/Them/I-Don't-Care

My first ChickenSmoothie cat!
Dog House🐶
All canines (or mostly canines!)
Bismuth - He/She/They/?

First ChickenSmoothie dog!

Bailey - He/They
Galactic Tsunami - She/They

Her name was randomly generated and I love it.

Riley - He/She/They

The dog that looks like a cat!?!?

Cayenne - She/They
Jump! - He/She/They
Doorbell - He/Him
The Stables🐴
Horses & other equines!
Mabawa - They/Them

My first ever ChickenSmoothie pet EVER! Named after my MLP OC (my Twicora ship child lol), I love them so much, you hurt them you die >:(((((((((( (jk...... unless?)

Ever After - He/She/They
Aouli - He/She/They
Soliloquy - He/Him

Adopted from Lavendelle who has many free pets given out! Thank you so much, I love him very dearly!

Bubbles - She/They
Fanta - He/Him
🌿The Garden🦋
Bugs & Insects or any other Garden-dweller!
Skelliton - He/Him

My baby. My angel. You adorable fuzzy caterpillar. My first Butterfly Wolf on CS!

Obi - He/Him

Han - He/Him

Nekoda - Fuzzy/Bug/Fella/IDK-Pronouns-or-Gender-for-Bug
🌧Rainforest Room🌴
For animals that live in rainy or tropical forests!
| | |
| --- | --- |
| Swirly - He/They | Leo - He/Him |